Disability discrimination occurs when a covered employer treats a qualified individual with a disability unfavorably because she has a disability, a history of disability or because the employer believes the employee has a disability whether it is a hiring or termination decision or any decision that impacts the terms or conditions of employment.
An employee can show that he or she has a disability in one of three ways: 
·         An employee may be disabled if he or she has a physical or mental condition that substantially limits a major life activity (such as walking, talking, seeing, hearing, or learning).
·         An employee may be disabled if he or she has a history of a disability (such as cancer that is in remission).
·         An employee may be disabled if he is believed to have a physical or mental impairment that is not transitory and minor.
Covered Employers Must Provide Reasonable Accommodations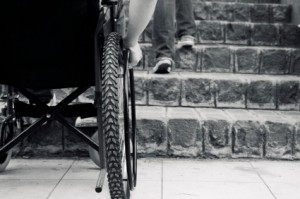 The law requires an employer to provide reasonable accommodations to an employee or job applicant with a disability, unless doing so would cause significant difficulty or expense for the employer ("undue hardship"). Undue hardship means that the accommodation would be too difficult or too expensive to provide, in light of the employer's size, financial resources, and the needs of the business.  However, an employer may not refuse to provide an accommodation just because it involves some cost.  A reasonable accommodation is any change in the work environment to help a person with a disability apply for a job, perform the duties of a job, or enjoy the benefits and privileges of employment.  The employer is required to engage in an interactive process to determine what reasonable accommodations are available.  Reasonable accommodation might include making the workplace more accessible.
The law also protects people from discrimination based on their relationship with a person with a disability, even if they do not themselves have a disability. For example, it is illegal to discriminate against an employee because her daughter has a disability.  If you believe you are a victim of disability discrimination, contact Darren McClain.